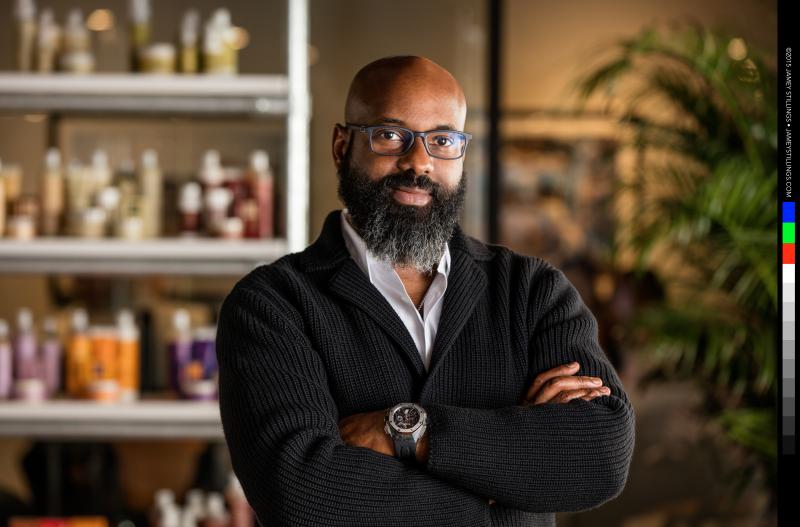 I've always been obsessed with entrepreneurs. Ever since my days at journalism school, my favorite interview subjects were entrepreneurs. I'm fascinated by how people take an idea - a need or a passion - and turn it into a business.
Since launching NaturallyCurly.com, 19 years ago, I've had an amazing opportunity to meet so many others who have have helped change this curly world. When I first met Richelieu Dennis at a CurlyNikki Meetup more than six years ago in Atlanta, I knew he was something special. When he saw the bar filled with naturalistas, he ran over to his booth at the Bronner Brothers trade show nearby to gather products to hand out to the attendees. At that point, SheaMoisture was still a cult brand - not a household name. It was just starting to gain a grass-roots following of curlies.
I've watched in awe as Sundial Brands has grown into one of the largest haircare companies, period. In 2015, Sundial was named to the Inc. 5000 list of the fastest-growing private companies in the United States I've had a number of brand managers ask me "How can we become the next SheaMoisture?"
So I was excited today to see Dennis was named to Fast Company's Most Creative People list. Introduced in 2009, this annual list features leaders who are shaping the future of business in creative ways and was quickly established as one of Fast Company's most esteemed franchises. This year, the magazine's editors presented an all-new group of highly accomplished, dynamic individuals from across the economy and around the globe whose work and ideas are driving the world forward.
The list spansactivists, food pioneers, CEOs, architects, athletes, musicians, writers, scientists and more, this honor recognizes Dennis as one of the 2017 Most Creative Poeple alongside CEOs of Google, Apple, Under Armour, Deloitte, Gucci, WeWork, SoulCycle and Black Girls Code, as well as luminaries including John Legend, Sarah Jessica Parker, Shonda Rhimes, Cher, Serena Williams, Dwayne "The Rock" Johnson, Issa Rae, and Kevin Hart, among others. Dennis now joins the elite MCP community of 1,500 influencers who are shaking up the status quo in their industries.
Since we started 19 years ago, we've always believed that texture transcends ethnicity. Dennis has shared our believe that there is a "New General Market," - which Sundial defines as an amalgamation of cultures, ethnicities, and demographics aligned against commonalities, need states and lifestyles - an inclusive approach rather than a traditional approach that segments by ethnicity. In 2016, WWD/Beauty Inc awarded SheaMoisture the Ad Campaign of the Year Award for its "Break the Walls" efforts, which Dennis led to challenge the beauty industry's divisive constructs and standardized ideals, redefine the meaning of "normal" in beauty and advocate for the industry to reflect inclusive beauty where "everybody gets love."
Dennis started the company in 1991 with his college roommate, Nyema Tubman, and mother, Mary Dennis, selling. The company was inspired by Dennis' Sierra Leonean grandmother, Sofi Tucker, who sold shea butter at a village market in Bonthe, Sierra Leone in 1912. They sold the products on the streets of New York to started making and selling my grandmother's products on the streets of New York to support themselves.
Congratulations Richelieu! As a former business reporter and entrepreneur, you are an inspiration.