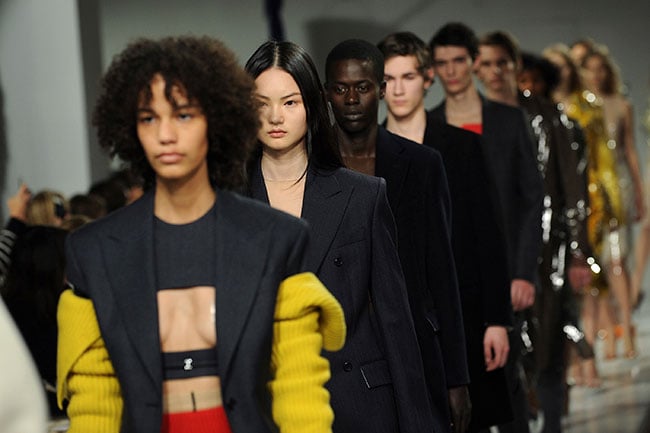 With Calvin Klein's Fall 2017 Ready-To-Wear Show Friday, designer Raf Simons wanted to show off the new face of fashion. And that new face was not one face. The men and women sauntering down the runway represented a wide range of ethnicities, hair textures and body types. Rather than the homogenous approach that we've seen in the past, this year's Calvin Klein show was all about individuality in all of its beautiful forms.
Bravo!
What was happening in the Calvin Klein show seems to be happening on runways around the world this year – a dramatic shift from seasons past.
From the Paris Couture shows to this week's NYC Ready-to-Wear shows, there is more diversity on the runways than ever before. While still far from the majority, most shows – whether it be Chanel or Givenchy's - are showcasing a much more inclusive ideal of beauty. Many shows are showcasing models with their natural hair texture.
This diversity isn't an accident.
Starting in 2008, Jezebel started compiling a seasonal New York Fashion Week racial diversity that revealed the number of White, Black, Asian, Latina models represented in the shows. It was disappointing, to say the least: according to their reports, black model representation was in the single digits.
Last year, the Council of Fashion Designers of America released its biannual health initiative letter from Diane von Furstenberg and Steve Kolb. According to the CFDA letter, diversity on the runway should be the norm, not the exception.
"It affects how we see things globally and how we are seen as an industry," wrote Bethann Hardison of the Diversity Coalition. "Our objective is to make a shift on how the model of color is viewed so it becomes natural to see them participating each season in a greater number than seasons past."
The CFDA's guidelines were aimed at:
Encouraging the industry to be inclusive of racial diversity when preparing model casting for their company's needs.
Asking model agencies to include and send models of color when casting. (Do not assume agents will automatically do so; it's good for them to hear the interest and important to see what models of color are available.)
Requesting models of color every season and not be limited to Spring/Summer collections and hesitate when it becomes to Fall/Winter collections.
When speaking to model agencies, suggesting they scout for more models of color encouraging a better selection.
Being open-minded to models of color and making an effort to add diversity to their lineup.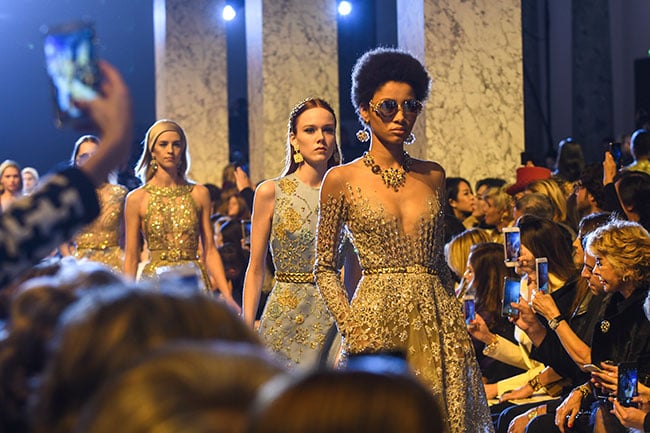 The Diversity Coalition has been monitoring the industry for nearly a decade by not holding its tongue in calling out a designer's racism, intentional or not. In a September 2014 letter to Furstenberg and Kolb, they wrote:
"Eyes are on an industry that season after season watches fashion design houses consistently use one or no models of color. No matter the intention, the result is racism. Not accepting another based on the color of their skin is clearly beyond aesthetic when it is consistent with the designer's brand.
Whether it's the decision of the designer, stylist or casting director, that decision to use basically all white models reveals a trait that is unbecoming in modern society. It can no longer be accepted nor confused by the use of an Asian model."
This desire to showcase the diversity of beauty is what inspired the Texture on the Runway kickoff. An event hosted by NaturallyCurly during Fashion Week, we aim to celebrate the beauty of features often neglected in the fashion industry. On Sept. 7th, we'll host our biggest show ever at Gotham Hall, with Sally Beauty as our retail sponsor.
We're encouraged that designers are starting to ensure that the models that wear their clothes truly reflect society. We hope that what's happening this season isn't a passing trend but rather the beginning of the new normal.