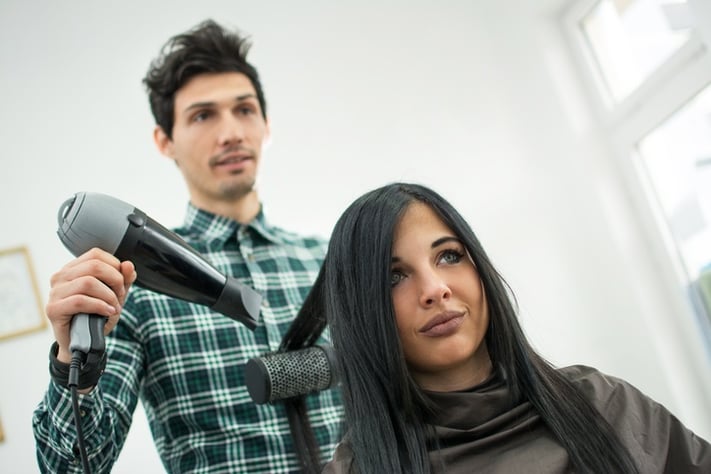 Although Myleik Teele has been natural for more than a decade, that doesn't mean she wears her hair in its natural state all the time. Sometimes she wears Marley twists. Sometimes she blows it out straight.
"Natural hair is not one thing," says the founder of curlBOX, a monthly subscription service for women with curls and coils. "The options are endless."
Teele is not alone. Nearly 70 percent of women with textured hair have worn their hair straight within the past three months, according to the 2017 TextureTrends consumer insights report.
While the number of women chemically relaxing their hair continues to drop , a majority of textured-hair women do straighten their hair periodically. These days, it's all about versatility - the ability to go from curly to straight and back.
Those with wavy hair are the most likely to straighten their hair, with 73 percent reporting that they straightened their hair within the past three months, followed by 67 percent of curly-haired women and 64 percent of those with coily hair.
The reasons people straighten their hair tend to be different today. In the past, women often straightened their hair becasue of societal pressure. In some professions, it wasn't acceptable to wear wear their hair in its natural state. Many people felt insecure about wearing their hair curly because straight hair was considered the standard of beauty.
These days, women's decision ot straighten tends to be more about their personal preference and the desire to change up their look:
Here are some examples from NaturallyCurly's community:
"I am graduating from high school next week which means the dreaded cap, and I tried it with my curly hair and it just isn't working! I need the best tips for straightening my hair."
"I am happy with my curly hair but like to wear it straight sometimes."

"I have type 2B hair - very thick slightly curly S-shaped waves. I love my wavy hair and wear it naturally everyday. While I do love my hair now, I'd like to straighten it from time to time because I like it when my hair is styled like that too and a change every here and there is nice. "
"I like to straightens to see how much growth I have and I also like the versaility."
" I never go to straightness because of pressure or in a hateful way, it's too self-destructive. I go to it when I want to evoke a different feeling. I feel fierce, strong, easy-going and alluring with curly hair but I feel elegant, polished and soft with straight hair. I can see that maybe this is problematic because it implies that curly hair can't be elegant or polished or soft (which it absolutely can be) but these are just the feelings it evokes in me.""
"I like to straighten because it's gives me a different look. Managing curly hair is a bit tough, though I only straighten my hair for special occasions."
"Women who choose to wear their hair differently than the way it grows out of their head are not necessarily self-loathers. You might want to sit down for this part because it's going to come as a complete shock. See, the reason they straighten could just be because they want straight hair."
Rather than turning to chemicals or hot combs that can permanently damage their hair, today's "straight natural" wants healthier ways to get a sleeker look that won't alter their curl pattern. That may mean investing in a salon-grade flat iron, turning it on a low heat setting and using heat protectant. Or they may get their hair professional blown out when they want a sleeker look.
The decision to go straight no longer means they don't love their curls and coils.
"Before, when I wore it straight and it went curly, I was mortified," says Teele. "Now there's curl acceptance, I look forward to it being puffy!"
For more information on the TextureTrends report, contact us.